Toilet Overflow Cleanup & Repair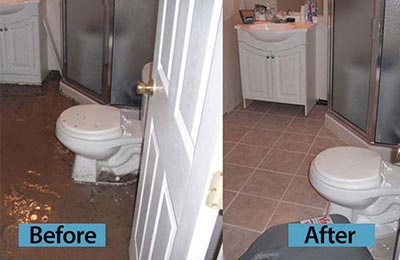 Builder Services of NC is the leading water damage restoration company in North Carolina with the expertise to resolve toilet overflow problems. We proudly serve business owners in Raleigh, Franklinton, Durham, and Cary. and dozens of other North Carolina cities within our service area.
Our IICRC-certified technicians are available 24/7/365 basis to help our customers in need. Plumbing incidents usually come without warning. When they do, our certified plumbers have got you covered! Call us now at 919-750-0803 for immediate assistance regarding any toilet overflow cleanup or plumbing issues you might be facing.
Steps to Take During a Toilet Overflow
Turn off the toilet's water supply
Keep children & pets away and out of reach
Try blocking the excess water from coming out
Call Builder Services of NC immediately, for professional attention.
Restoration Services for a Toilet Overflow, Clog, or Leak
Toilet leaks or clogging issues are often very nasty, and overflows may cause the contents of the toilet to rise above the bowl and flood the floor. If the toilet is on the second floor, you might notice ceiling wall dampness and leaks from the floor underneath. However, Builder Services of NC is the expert when it comes to water-damaged interiors.
We offer detailed inspection and extensive restoration services by IICRC-certified technicians who are available on a 24/7 basis. You can fully rely on Builder Services of NC for toilet overflow repair services, so call us now at 919-750-0803 for immediate help.
Possible Causes of Toilet Overflow Damage

Clogged Drain Pipe - The problem could be in the line that connects your toilet to the mainline outside; it's also possible that a different drain line could be causing the problem.

Sewer - The problem could be from outside your property as well; the water lines that run to the main sewer line can get clogged with foreign objects, causing water overflow.

Pipe Burst - An internal pipe burst may be the cause of toilet overflowing problems; causing contents of another line to be flushed through the mainline
Contact Builder Services to Repair Toilet Overflows in Chapel Hill & Bahama
A toilet overflowing problem is often very unhygienic and disturbing to witness. Additionally, the excess water might lead to mold growth on the ceiling of the room. Builder Services of NC is available on a 24/7/365 basis for an emergency response to distress calls like plumbing issues. Restore your toilet back to its sanitary condition with our expert help. Call Builder Services of NC now at 919-750-0803 or contact us online in Franklinton, Chapel Hill, or Bahama.