Water Heater Leak Repair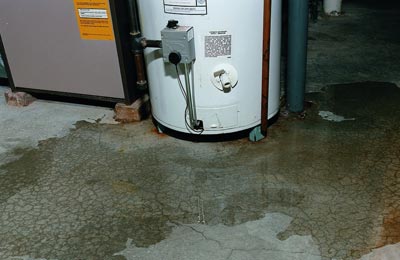 Spotted a leak in your water heater that is flooding your office? Water leaks come with their own set of problems. Sometimes, it floods excessively and destroys the heater's electrical components before anyone notices; other times, the water moisture attracts mold growth.
Thankfully, Builder Services of NC has vast experience in fixing water heater leaks. We repair water heater leaks, clean and extract water, and also dry using modern dehumidifiers to prevent mold growth. Even if you have a mold infestation, our team can perform mold remediation and remove it permanently.
Builders Services of NC provides water heater overflow solutions, water tank burst restorations and replacements, water heater leak repair, and every other water damage restoration you can think of. Our extensive services are available throughout North Carolina for 24 hours a day.
Complete Water Heater Restoration
Often times it is quite hard to reach the valves on the heater, and with the calcium build-up over time, it is difficult to operate the valve. Professional help is often required and we are the experts you should count on for water heater repair and restorations. We provide all sorts of restoration services, including the following restorations for water heaters:
Water Tank Overflow
Water flowing from the tank usually means some clogged waterways and malfunctioned parts, that we can address.
Water Heater Repair
Your water heater might not be producing sufficient heat, causing your water to be not warm enough.
Water Heater Leak
Water leaks gradually drip water over plains that encourage mold growth and can cause your electrical heater to malfunction.
Water Heater Replacement
If your water heater is ages old and is filled with various cracks, it might need a complete replacement to function properly.
Why Choose Builder Services of North Carolina?
Builder Services of NC is a leading restoration company based in the State of North Carolina. Our restoration crew has earned numerous awards for our quality of service over the decade. We earned an A-plus rating from BBB, the highest industry standard for quality service. Trust us for superior quality restoration services.
No job is too big, and no problem is too difficult for our restoration crew to handle. We take care of all sorts of water damage as well as fire damage. We are available on a 24/7/365 basis all around the year to be able to help commercial property owners at any moment.
Fix Your Water Heater Today with Builder Services of NC
Is water leaking causing problems? Afraid of mold infestation? Let Builder Services of NC take a look and evaluate the best solution for you! Call us to have our restoration experts on the way to your residence in Raleigh, Durham, Chapel Hill, and throughout North Carolina. Contact us online or call us now at 919-750-0803 for a great restoration service for your water heater problem.