Fire Safety Tips
Fire is a life-threatening element that spreads quickly and can burn down your office or commercial property in minutes. In case of a fire outbreak, call 911 immediately to activate first responders. Then, call Builder Services of NC at 919-750-0803 for complete fire damage restoration service to bring your office or commercial property back to its pre-loss condition in Garner, Knightdale, Clayton, Apex, and throughout our North Carolina service area.
Builders Services of NC is the leading fire damage restoration team in North Carolina. With extensive knowledge from years of experience, we are your best bet to recover from even the most disastrous fire incident. Our services are available 24/7/365 because incidents can happen at any time. Call us now at 919-750-0803 when it is time to rebuild, restore, or repair your commercial property.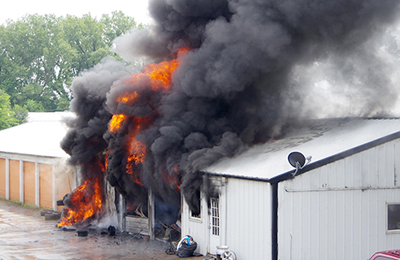 Escape Plan & Fire Drills
In the event of a fire emergency, you will have as little as 2 minutes to escape from the burning structure once the fire alarm sounds. Predetermined escape plans and routes save lives that you and your co-workers can use to get to safety. It is essential to have an escape plan sorted out in case of an emergency and carry out fire drills at least a couple of times a year.
Practice various scenarios of getting out of the office using different routes.
Do not keep furniture in places that might block passage through a window or a door.
Teach family members that it's important to save their own lives first rather than trying to save belongings.
Call 911 as soon as possible.
Fire Alarm Safety Tips by Business Services of NC
Fire alarms are proven to prevent fire-related death in many situations. Check your fire alarm once a month to ensure that the batteries are working and check the fire alarm system itself to see if it is armed. Your fire alarm could mean the difference between escaping a painful death and getting burnt down by the building.
Office Fire Prevention Tips
Electrical Malfunction - Electrical fires can cause severe damage to your property. Faulty or old wiring; incorrectly installed wires; overloaded circuits; overused extension cords or defective appliance cords all cause electrical fires. Damaged wires should be replaced and circuits and extension cords must not be overloaded.
Open Flames - Open flame disasters happen due to unattended fires like candles. Inspect the area around the flame and keep flammable objects away from contact. If you have a fireplace, install a metal mesh to stop the sparks from flying around.
Cigarettes - Cigarette smoking is a major cause of fire incidents. A cigarette butt that has not been extinguished properly can burn through an item of clothing or paper for hours and introduce a large flame. Make sure cigarette butts are properly smoldered to prevent such accidents from rising.
If you face a fire disaster call Builder Services of NC for professional fire damage restoration, including smoke odor & soot removal services.
Contact Builder Services of NC for Fire Damage Restoration in Cary & Apex
Builder Services of NC has been providing excellent fire damage restoration services like smoke & soot restoration and smoke odor removal to the residents of North Carolina for more than a decade. We are a certified restoration company, approved by the IICRC and RIA. Our crews are on call on a 24/7 /365 basis in Clayton, Garner, Raleigh, Cary, and throughout our NC service area. When you have survived a fire and need a reliable, professional, restoration crew to help you rebuild, give Builder Services of NC a call at 919-750-0803 or contact us online.