Tornado Damage Restoration
Natural disasters like tornadoes arrive with no advanced warning or notice. Unfortunately, if your commercial property is damaged by a tornado, you might find yourself in great distress. You would be required to call various companies for restoration, insurance, debris removal, and lots more.
Count on Builder Services of NC to provide you with the best available tornado damage restoration services and an effective Storm Damage ERP (Emergency Response Plan) that will give you priority service in the event of a natural disaster. Our IICRC-certified emergency restoration crew focuses on repairing the damages in a very short period of time so that your business can continue to function at full speed.
Natural Disaster Response from Builder Services of NC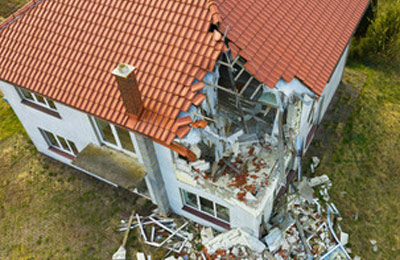 At Builder Services Inc. of NC, we restore your property using state-of-the-art equipment that allows superior results and speedy progress. Emergency Response Plans are crucial because the sooner your property is completely repaired, the sooner you can get back to running your business. We will reduce downtime for your company during the restoration process.
Benefits of a Storm Damage Emergency Response Plan
Priority Attention
Immediate Crew Dispatch
Advanced Equipment
Excellent Restoration Quality
Quick Recovery from Disasters
Minimize Downtime
Reduce Financial Pressure
Insurance Billed Directly
Count on Us for Priority Response to Tornado Damage in Raleigh, Durham, & Chapel Hill
Regardless of the severity of the damage, we will dispatch our Builder Services Inc. of NC restoration crew as soon as you contact us to ensure the fastest recovery possible. We are available 24/7 and serve Franklinton, Durham, Chapel Hill, Raleigh, and nearby areas in North Carolina. When you want to get an ERP for your commercial property, give Builder Services Inc. of NC a call at 919-750-0803 or contact us online.