Hotels Restoration Services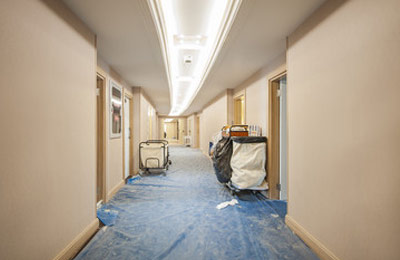 Hotel water damage is an unfortunate, yet frequent occurrence. It is definitely something management should expect and prepare for in advance. Most hotel water damage incidents, no matter how minor, should be addressed ASAP.
With so many rooms and public spaces equipped with plumbing pipes, what seems like an insignificant mishap can morph into major damage if left unrepaired. That will inflict structural damage and weaken the building, lowering your property value while damaging your business reputation and interrupting regular operations.
To prevent that from happening, your best solution is to rely on the certified craftsmen from Builder Services Inc. of NC to provide commercial restoration services that will eliminate water damage, fire damage, or mold from your hotel in Raleigh, Durham & Cary NC.
Issues That Cause Hotel Water Damage
Water damage at hotels occurs for a variety of reasons. Primary issues include:
Floods – With enough heavy rainfall, a flood can occur anywhere. However, most basic insurance policies do not cover flood damages. You will need a specific flood insurance policy to cover the damage to your hotel or motel.
Burst Pipes & Faulty Equipment – Hotels have considerable plumbing and piping systems to maintain, facility-wide, on a 24/7/365 basis. Regular maintenance and repair of rusty, old, or leaky water pipes and malfunctioning equipment can prevent more costly repairs later.
Basement or Crawl Space Moisture Problems – Equipment stored in a humid basement or a damp crawl space is subject to moisture problems that can cause water damage throughout your facility. Professional basement waterproofing contractors can provide a custom solution to specific situations.
Sewage Backup – Sewage backup can cause major hotel water damage, contamination, and health hazards. The extent of exposure and porosity of affected materials determine the degree of loss to your business. Content restoration is possible with a quick response, even if your items are cleaned off-site.
Accidents and Pranks – Accidents and pranks can cost hotels thousands of dollars per incident. In many cases, innocent pranks can lead to serious accidents. Because these incidents cannot always be prevented, it is best to limit the hotel's liability by maintaining an impeccably clean, well-maintained facility, as well as carrying adequate insurance coverage.
Hotel Water Damage Repair & Maintenance
Hotel water damage scenarios translate into major expenses for the business. Moisture and humidity promote structural damage, wood rot, peeling paint, and mold. Unrepaired leaks lead to the gradual wear and tear and deterioration of the facility.
An unrepaired leak originating on the hotel roof can damage the ceiling, walls, and flooring below. The seeping water could wind up impacting furniture, electronics, and the personal possessions of hotel guests. Because water damage restoration can be very expensive, the best solution is to keep your hotel in good repair at all times.
Importance of an Emergency Response Plan
Any commercial establishment has a vested interest in minimizing loss. Although not every water damage emergency can be predicted or prevented, it helps to be prepared with a contingency plan for possible risk scenarios. The plan should be put together well ahead of a potential emergency.
In fact, having an established Emergency Response Plan (ERP) is the most effective way to reduce the duration of downtime for your hotel following an emergency. A comprehensive preparedness plan includes the following: determining an evacuation and shelter plan; training staff for emergency situations; investing in backup power and communication systems; protecting business data; carrying adequate business interruption insurance and establishing a relationship with the local restoration professionals from Builder Services Inc of NC.
Trust Builder Services Inc. of NC to Restore Your Hotel
Because the success of your hotel relies on attracting overnight guests, the way you respond following a fire, flood, accident, or natural disaster impacts your number of repeat customers. When you need to restore your hotel and its contents in Raleigh, Durham & Cary NC, your best solution to minimize downtime and please your guests is to contact Builder Services Inc. of NC online or give us a call at 919-750-0803. Our proven professionals are available on a 24/7/365 basis to provide help with commercial restoration services, fire damage, water damage, mold removal, and much more.