Natural Disasters Response from Builder Services Inc. of NC
Natural disasters may occur at any time and leave you in a catastrophic situation without notice. Your hard-worked business establishment may get severely damaged and you might find yourself in despair. Stop wasting time thinking about what to do and how to cope up with the devastation. Have an emergency plan in hand, also known as ERP, for the quickest recovery from a major disaster.
When the unthinkable happens, think Builder Services Inc. of NC. In the event of storm damage, natural disasters, or any man-made disaster, an ERP can be prepared by our special Emergency Response Team so that your business can continue to function at full capacity.
Why You Should Create an ERP for Natural Disasters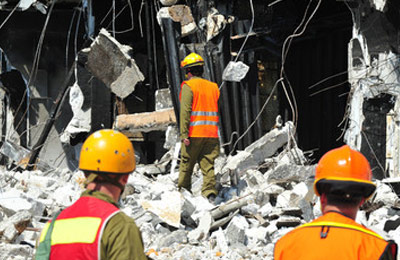 Earthquakes, hurricanes, tornadoes, and heavy storms come quite fast without any prior warning. Many leave a trail of wreckage along their path. You might find your commercial property in one of those wreckages and it could be overwhelming to cope with all the damages. You have to call various different companies like insurance companies, and plumbing companies if any water pipes are damaged, and take care of any injured employee, and it could all be a hectic mess.
Builder Services Inc. of NC handles all sorts of disaster restoration along with water damage, fire damage, and insurance assistance to help our customers throughout North Carolina. Instead of standing in the ruins of your property, let us act immediately when you are hit by a disaster for a quick recovery. We will create an effective Emergency Response Plan with your cooperation.
Benefits of Owning Our Emergency Response Plan
In a crisis situation, you need a plan to minimize potential damages to your business or commercial property. Our specialists will help you strategize an emergency response plan that reduces your financial impact. Commercial property owners will benefit from:
Priority Disaster Response
Higher Importance Over Non-ERP Calls
Specialized Restoration Team
Strategy to Minimize Damage
Direct Insurance Billing & Assistance
Effectively Reduced Downtime
Periodic Updates to Ensure ERP Is Current
Rely on Builder Services Inc. of NC for an Exceptional Natural Disaster Response Plan
For more than a decade, Builder Services Inc. of NC has set the standard for ERPs, commercial restoration, and much more for our customers throughout North Carolina. Our IICRC certified restoration team has been providing excellent quality service for more than a decade. Be more flexible with an ERP planned for your business.
We are serving all over North Carolina in Garner, Chapel Hill, Clayton, Durham, and nearby areas. When you want a professional ERP for your business, give us a call at 919-750-0803 or contact us online.