Storm Damage Emergency Response Plan (ERP)
Storm disasters are typically unpredictable and no one is well prepared for one. In the event of a catastrophic tornado, damage to commercial properties is imminent. The wisest thing to do is have an Emergency Response Plan (ERP) strategized to reduce damage and get your business back up in a short time.
Builder Services Inc. of NC is the leading disaster restoration company in North Carolina. We offer expert-advised ERPs that aim especially at quick recovery for your business when it is hit by a storm. We also provide Natural Disaster Response plans because downtime for your business means loss and we are here to minimize that.
Storms That Could Have an Impact on Your Business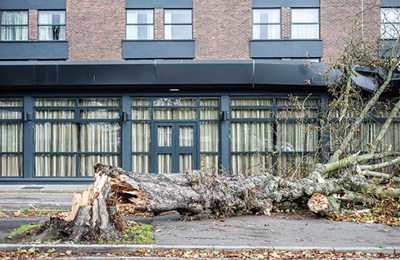 Storm Damage Response from Builder Services Inc. of NC
Once the storm has passed, our IICRC certified crews will remove fallen trees and other debris before we start our restoration services for your home or office and our content restoration services for your belongings. Our team inspects your property for damages and works accordingly to restore properties to pre-damage condition. We also hone skillful insurance professionals who responsibly take care of your insurance bills directly.
Advantages of ERP (Emergency Response Plan)
Priority Disaster Response
Higher Importance Over Non-ERP Calls
Specialized Storm Damage Equipment
Strategy to Minimize Damage
Direct Insurance Billing & Assistance
Effectively Reduced Downtime
Periodic Updates to Ensure ERP Is Current
Let Builder Services Inc. of NC Create an Effective ERP for Your Business
When the unthinkable happens, think of Builder Services Inc. of NC. As North Carolina's Leading Restoration Team, our emergency response crews are standing by on a 24/7/365 basis to help you rebound from storm damages efficiently and rapidly. We are serving exclusively in Oxford, Garner, Cary, Apex, and more nearby areas in North Carolina. To get an advanced ERP for your business, give us a call today at 919-750-0803.
Commercial Properties We Specialize In
Contact Builder Services Inc. of NC today to protect your business.