Municipality Restoration
Few venues in any community draw more foot traffic than the local municipal building. Not only does it provide office space for local government agencies and their employees, but it also is the location of the court system that allows residents to resolve disputes with the help of judges and juries.
Because it is a significant gathering place on a daily basis, a municipal building must be well-maintained. When such a building is damaged by fire, flood, mold, or a natural disaster, it impacts lots of local residents. That is why it is in your best interest to hire the proven professionals from Builder Services Inc. of NC to handle the reconstruction needs of your municipal building ASAP in the wake of a catastrophic accident or natural disaster.
For more than a decade, Builder Services Inc. of NC has been North Carolina's Leading Restoration Team. When disaster strikes, every minute counts, and our certified craftsmen are available on a 24/7/365 basis to provide timely reconstruction services. We can also create emergency response plans that are useful in minimizing repair costs and business downtime.
When the unthinkable happens, think Builder Services Inc. of NC.
We Can Rejuvenate Your Building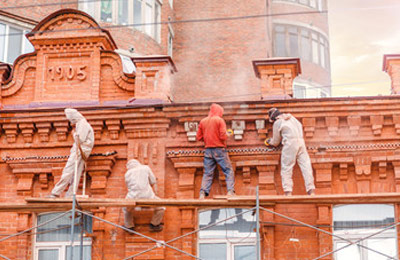 When disaster strikes and your municipal building is damaged by fire, wind, water, or something else, Builder Services Inc. of NC has the experience, equipment, and manpower to restore it to its original condition. Our trained technicians are IICRC-certified to handle all types of repairs and our company has received an A-plus rating from BBB, the highest industry standard.
Some of the most challenging repairs to municipal buildings come from water damage because the moist environment provides an ideal breeding ground for mold and its accompanying health risks. Water damage to a municipal building will trigger significant expenses for taxpayers who shoulder the cost of repairs, making it something that should be avoided with regular maintenance.
Fire damage can be even more devastating to a building's infrastructure, with the additional issues of soot damage and smoke odors. Regardless of what Mother Nature or a major accident brings your way, our professional crews will be equal to the challenge of helping you rejuvenate your building.
Preventive Maintenance with an ERP is Your Best Option
Every business owner or city manager seeks to minimize financial losses. That includes unexpected accidents and natural disasters at your municipal building.
Although some emergencies cannot be avoided, the financial impact can be minimized if you have a contingency plan in place that addresses possible risk scenarios. Builder Services Inc. of NC provides emergency response plans (ERPs) to help get your municipal building back up and running ASAP in the wake of a natural or man-made disaster in Raleigh, Durham & Cary NC.
An ERP is designed as a type of preventive maintenance option that will save you time recovering from the disaster and reduce the overall financial impact you incur from the event. With proper preparation, many business-related injuries, damages, and aftermaths caused by disasters can be minimized or avoided.
Your ERP should include a comprehensive preparedness plan that addresses: an evacuation and shelter plan; training staff for emergency situations; investing in backup power and communication systems; protecting business data; carrying adequate business interruption insurance and establishing a relationship with Builder Services Inc. of NC.
Count on Builder Services Inc. of NC to Restore Your Municipal Building
When disaster strikes a municipal building in Raleigh, Durham & Cary NC, it impacts the entire community. The building and its offices need to be back in service ASAP. That is where Builder Services Inc. of NC can help. Our proven professionals are experts in reconstruction and restoration projects for commercial properties. You know the job will be done right, and at a customer-friendly price, when you contact us online or call us at 919-750-0803.