Hail Damage Repair
Your office is your biggest business asset and your means of shelter during the workday. Hailstorms can cause severe damages like dents in aluminum sidings, crack shingles, gutters, or even crank vinyl sidings, asphalt roofs, or wood shakes. Hailstorms are a very strong act of nature that can wreak havoc on all types of offices & commercial properties.
Builder Services of NC can assess the damages and repair roofs, sidings, and shingles damage with great craftsmanship. We operate all across North Carolina and have been helping property owners in the state for more than 10 years. We provide 24/7/365 emergency response to your loss due to hail and act quickly to relieve you of the problem. Our restoration crew is the industry expert in storm damage and water damage restoration. We provide hail storm roof damage repair services for offices and business properties to bring each back to its pre-loss condition.
Devastating Effects of a Hailstorm
Hailstorms rain with great force consisting of granules of ice up to 5 inches long. Such granules can dent your aluminum sidings, crack roof shingles, cause damage to your sidings, and impact your windowsills.
Dented gutter and downspouts
Dents, dings, warps to siding and windowsills
Uneven gaps between layers of sidings
Cracked or shattered roof shingles
Damaged windows, frames, or glass
Hail Damaged Roof
Severe hail has the power to crack asphalt roof shingles and create uneven gaps. Hail can sometimes create an opening in the roof, and water will rush inside more damage and encouraging mold growth.
Hail Damaged Sidings
Dings and displacement of sidings are the most common known cases of siding damage caused by hail. Aluminum sidings can get dents on them and uneven gaps appear between the layers of sidings.
Hail Damaged Windows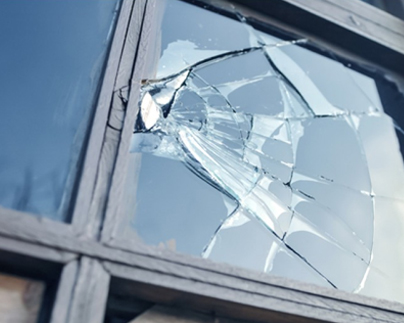 Hail can cause warps and dings on your windowsills and can even crack the window itself sometimes when a severe hailstorm is in progress. Water and wind will come rushing in if that happens, leaving you exposed. If rainwater enters through the cracks in the roof, dampening your walls and interiors, it can attract mold growth leading to more repair costs.
We can help! Builder Services of NC inspects all damages to the roof, roof vents, chimney, skylights, sidings, and exterior. After inspection, we provide a detailed estimate and start restoring and remodeling your property. We have years of experience working closely with various insurance companies and we can help you validate your storm damage insurance claims without hassle.
Contact Builder Services of NC for Hailstorm Damage Restoration
Mother Nature struck your property? When disaster strikes reach out to the certified professionals at Builder Services of NC for expert restoration services across North Carolina. Our restoration crew can handle restorations for fire damage, water damage, and storm damage. For complete inspection and restoration contact us online or call us at 919-750-0803.