Day Care Center Restoration Services
Major storms, indoor flooding, and other emergencies that trigger water damage can stop the daily operations of your daycare center and disrupt the schedules of both parents and children. In this industry, downtime must be minimized or you will lose customers.
When you have flooding or water damage at your daycare facility in Raleigh, Durham & Cary NC, the best solution is to contact the proven professionals from Builder Services Inc. of NC. Our certified crews are standing by on a 24/7/365 basis to provide water damage restoration services to get your facility back to its original condition ASAP.
For more than a decade, Builder Services Inc. of NC has created satisfied customers throughout North Carolina because of our experienced water-restoration crews. They will arrive at your daycare center with advanced drying equipment needed for water removal, cleanup, restoration, and repair. We also offer full-service commercial reconstruction services and can help you devise emergency response plans to minimize the chaos in emergency situations.
When the unthinkable happens, think Builder Services Inc. of NC.
Addressing Contaminated Water Issues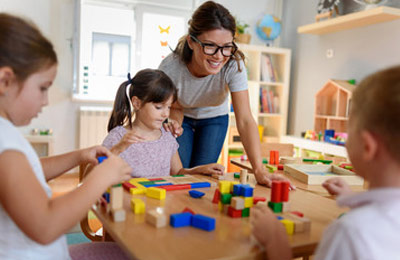 When indoor flooding happens, damage to your building and its contents takes a back seat to health & safety concerns for the children in your facility. Floodwater is highly unsanitary and harmful. Skin irritations, stomach disorders, and respiratory problems are common issues that result from contaminated water.
It's also possible for mold to grow within 24 hours of water damage, impacting the building's structure and causing potential harm to inhabitants. Mold toxins can cause poor indoor air quality, as well as allergic reactions and asthma attacks.
After completing the water extraction and drying process, our trained technicians will disinfect the area to kill harmful microbes. If mold is spotted, we'll use powerful negative ion technology to kill the fungi and prevent it from coming back.
Structural Repairs & Contents Restoration for your Day Care Center
When the water damage restoration process is complete and your building is completely dry, we'll start structural repairs at your daycare center. This includes the entire building envelope, from the roof to walls, as well as floors, doors, windows, and basement. We'll also upgrade your air sealing, insulation, and electrical wiring.
We have a full-service construction and design team to work with you throughout the reconstruction process. Our team of content restoration experts will help you go through all appliances, carpets, rugs, upholstery, and even toys to see which ones are salvageable. We'll also help you file your insurance claim.
Trust Builder Services Inc. of NC to Deal with Your Day Care Center Dilemma
When an emergency impacts your daycare center in Raleigh, Durham & Cary NC, you have damages to your building as well as disruption to the children and parents who count on you for childcare services. To minimize the downtime, be sure to contact Builder Services Inc. of NC online or give us a call at 919-750-0803 to get your childcare facility functional ASAP. Our certified craftsmen are standing by on a 24/7/365 basis to provide repairs for fire, smoke, storm, or flood damages.