Disinfecting Service - Raleigh, Durham & Cary NC
Viruses such as SARS, swine flu, the novel coronavirus (COVID-19), and other bacterias may be present inside your house or introduced by family members who spend time outside. Builder Services Inc of NC can perform deep cleaning and apply EPA certified disinfectants to eliminate any existence of pathogens in your building. We offer complete sanitization services for your home and commercial property in Raleigh, Durham & Cary NC.
How Viruses Spread
It has been found that COVID-19 can spread through the air to individuals within close proximity and enter the body through the nose and mouth. Interactions with various people increase the chances of the virus being spread to you, which you carry wherever you go. Moreover, it can also spread by human contact by holding an object or touching a contaminated surface, causing the virus to enter your body when you touch your nose, eyes, mouth, or face afterward.
Other viruses and bacterias like malaria, dengue can enter your house through various insect bites that will not choose your house to prey on after our disinfect spray, as our chemically engineered sprays repel such insects and any sort of pathogenic material.
What We Do to Protect You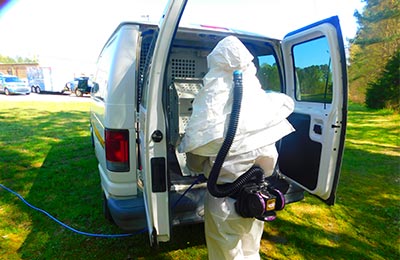 Builder Services Inc of NC provides sanitization using EPA registered disinfectants that are applied following CDC approved protocols. Our specialists wear special hazmat suits while disinfecting your house to avoid getting themselves contaminated or spreading more bacteria. We work closely with our customers to identify which areas need disinfecting the most and put special attention on those.
We are equipped with powerful dispersal technology that allows us to apply disinfecting agents properly on all surfaces. We disinfect commonly used areas first like bathroom and sinks, doors, doorknobs, toys, books, tables, chairs, common household objects, and other surfaces that are frequently touched. We then move our attention to thoroughly clean and sanitize narrow corners present in your building because bacteria and fungi are most likely to accumulate in these places. We implement our practice of disinfecting according to CDC guidelines to ensure the most clinically clean environment possible and promote hygiene.
Our Process of Disinfecting: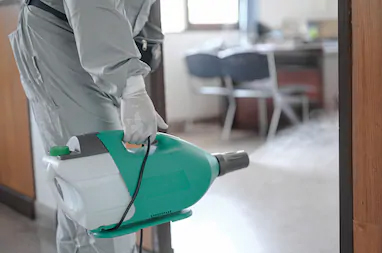 We use EPA registered disinfecting agents
We follow the CDC recommended guidelines
We follow safety protocols like wearing hazmat suits
Our disinfectants do not leave behind visual residue
Our sprays and chemicals are non-allergic
We use non-flammable substances
Rely on Builder Services Inc of NC for Complete Sanitization in Raleigh, Durham & Cary NC
If you want to get your property sanitized and disinfected contact the local specialist in Raleigh, Durham & Cary NC, Builder Services Inc of NC will provide you professional disinfecting services for your health concerns. We are available 24/7 to assist you at any hour! Give us a call at 919-750-0803 or contact us online.